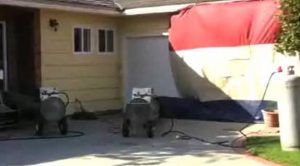 Complete Heat or Thermigation is similar to fumigation when all wooden parts of a structure are treated by reaching all drywood termites. During fumigation this is achieved by introducing sulfur fluoride, but by using complete heat it is accomplished by increasing the temperature to a level at which dry wood termites cannot survive. In both cases, the structure is sealed to block fumigant or excessive heat escaping through a tent or other alternative ways. Complete Heat or Thermigation is the only alternative to fumigation capable of eliminating all drywood termites. In addition, it has one great advantage – it is a completely green treatment that does not involve any chemicals, even organic and natural ones.
There is no easy way to do a good quality heat job. Even though it seems easy to exterminate drywood termites with heat — you just need to reach 120 ° F and keep it for only little over 30 minutes — however in practice there are many obstacles to that.

As a very experienced company with huge investment on equipment and having extremely trained and experienced workforce we can do it properly. Also, we combine heat with natural borate foaming to achieve preventative effect and double-treat drywood termites to ensure much better quality of work.

This is a premium quality of work done by only natural and no chemical methods approved by the state as a complete and proper drywood termite treatment!
No reason to allow toxic chemicals to your home!
Drywood termites flourish in LA, but so does Prime Termite!
Angelinos have their response to drywood termite dominance in their city – Prime Termite!
One of the best warranties in business for natural and non-chemical treatments tested for almost a decade by our company!
Fumigation is easy, but real pros do heat and do it with good quality!
Let's others worry about termites and harsh chemicals, we will take care of people in our city!