Prime Termite provides termite inspections and treatments on most cities and municipalities of Greater Los Angeles area. Please refer map below for further reference.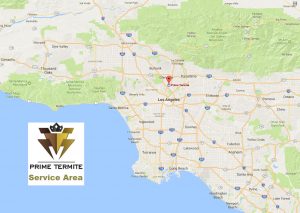 Areas below are differentiated based on intensity of drywood termite infestation in Southern California. The close to the ocean line, the more infested structures are due to higher moisture content and more stable temperature.
Area 1.  Southern Part of Malibu, coastal part of Santa Monica, Marina Del Rey, El Segundo, Manhattan Beach, Hermosa Beach, Western Redondo Beach, Palos Verdes Estates, Rancho Palos Verdes, Rolling Hills, coastal Part of Long Beach, Seal Beach, coastal part of Huntington Beach, coastal part of Newport Beach, coastal part of Laguna Beach.
Area 2.  Northern Malibu, Eastern Santa Monica, Inglewood, Lennox, Hawthorne, Lawndale, Torrance, West Carson, Long Beach South from I405, Signal Hill, Eastern part of Seal Beach, Eastern Huntington Beach, Costa Mesa, Irvine west from I405, Lake Forest, Laguna Hills.
Area 3. West Hills, Woodland Hills, Chatsworth, Canoga Park, Reseda, Winnetka, Northridge, Tarzana, Granada Hills, Sherman Oaks, Panorama City, Studio City, Sun Valley, North Hollywood, Hollywood, Bell Air, Beverly Hills, West Hollywood, Burbank west from I5, Glendale west from I5, Huntington Park, Florence, Norwalk, Bellflower, Lakewood, Cypress, Garden Grove, Stanton, Santa Ana, Irvine east from I405
Area 4.  City of San Fernando, Burbank east from I5, Glendale east from I5, La Canada Flintridge, Pasadena, South Pasadena, San Marino, Altadena, Arcadia, Monrovia, San Gabriel, East Los Angeles, Montebello, Pico Rivera, El Monte, Hacienda Heights, Covina, Whittier, Rowland Heights, La Habra, La Mirada, Fullerton, La Mirada, Anaheim Orange, Placentia, Tustin, Yorba Linda, Pomona, Chino, Chino Hills, Claremont, La Verne,  Ontario, Upland, Rancho Cucamonga, Corona, Fontana, Riverside, San Bernardino.
Detailed service area listing with Zip/Code/City/ Tel: Area Code
91301 Agoura ( 818 )
91376 Agoura ( 818 )
91301 Agoura Hills ( 818 )
91376 Agoura Hills ( 818 )
91377 Agoura Hills ( 805 )
91801 Alhambra ( 626 )
91802 Alhambra ( 626 )
91803 Alhambra ( 626 )
91804 Alhambra ( 626 )
91896 Alhambra ( 626 )
91899 Alhambra ( 626 )
92653 Aliso Viejo ( 949 )
92656 Aliso Viejo ( 949 )
92698 Aliso Viejo ( 949 )
91001 Altadena ( 626 )
91003 Altadena ( 626 )
91123 Ambassador College ( 626 )
91129 Ambassador I C Foundation ( 626 )
92801 Anaheim ( 714 )
92802 Anaheim ( 714 )
92803 Anaheim ( 714 )
92804 Anaheim ( 714 )
92805 Anaheim ( 714 )
92806 Anaheim ( 714 )
92807 Anaheim ( 714 )
92808 Anaheim ( 714 )
92809 Anaheim ( 714 )
92812 Anaheim ( 714 )
92814 Anaheim ( 714 )
92815 Anaheim ( 714 )
92816 Anaheim ( 714 )
92817 Anaheim ( 714 )
92825 Anaheim ( 714 )
92850 Anaheim ( 714 )
92899 Anaheim ( 714 )
92807 Anaheim Hills ( 714 )
92808 Anaheim Hills ( 714 )
92809 Anaheim Hills ( 714 )
92817 Anaheim Hills ( 714 )
91006 Arcadia ( 626 )
91007 Arcadia ( 626 )
91066 Arcadia ( 626 )
91077 Arcadia ( 626 )
90071 Arco ( 213 )
90071 Arco-Plaza ( 213 )
91331 Arleta ( 818 )
91334 Arleta ( 818 )
90701 Artesia ( 562 )
90702 Artesia ( 562 )
90703 Artesia ( 562 )
92811 Atwood ( 714 )
90002 August F. Haw ( 323 )
90044 August F. Haw ( 323 )
90051 August F. Haw ( 213 )
90059 August F. Haw ( 323 )
90061 August F. Haw ( 323 )
90704 Avalon ( 310/424 )
91121 Avon Products ( 626 )
91702 Azusa ( 626 )
92662 Balboa ( 949 )
92662 Balboa Island ( 949 )
90008 Baldwin Hills ( 323 )
90056 Baldwin Hills ( 310/424 )
91706 Baldwin Park ( 626 )
90074 Bank of America ( 213 )
92725 Bank of America ( 714 )
90099 Bar Code Term Annex ( 213 )
90049 Barrington ( 310/424 )
90077 Barrington ( 310/424 )
91746 Bassett ( 626 )
92648 Beach Center ( 714 )
90201 Bell ( 323 )
90202 Bell ( 323 )
90270 Bell ( 323 )
91307 Bell Canyon ( 818 )
90201 Bell Gardens ( 323 )
90202 Bell Gardens ( 323 )
90706 Bellflower ( 562 )
90707 Bellflower ( 562 )
90803 Belmont Shore ( 562 )
90209 Beverly Hills ( 310/424 )
90210 Beverly Hills ( 310/424 )
90211 Beverly Hills ( 310/424 )
90212 Beverly Hills ( 310/424 )
90213 Beverly Hills ( 310/424 )
90048 Bicentennial ( 323 )
90639 Biola University ( 714 )
90807 Bixby Knolls ( 562 )
91470 Blue Cross of South California ( 818 )
90846 Boeing ( 562 )
91304 Box Canyon ( 818 )
90033 Boyle Heights ( 323 )
91008 Bradbury ( 626 )
91010 Bradbury ( 626 )
90045 Bradley International ( 310/424 )
92821 Brea ( 714 )
92822 Brea ( 714 )
92823 Brea ( 714 )
90049 Brentwood ( 310/424 )
90048 Briggs ( 323 )
92703 Bristol ( 714 )
90003 Broadway Manchester ( 323 )
92804 Brookhurst Center ( 714 )
90620 Buena Park ( 714 )
90621 Buena Park ( 714 )
90622 Buena Park ( 714 )
90623 Buena Park ( 714 )
90624 Buena Park ( 714 )
90101 Bulk Mail Center ( 213 )
91501 Burbank ( 818 )
91502 Burbank ( 818 )
91503 Burbank ( 818 )
91504 Burbank ( 818 )
91505 Burbank ( 818 )
91506 Burbank ( 818 )
91507 Burbank ( 818 )
91508 Burbank ( 818 )
91510 Burbank ( 818 )
91521 Burbank ( 818 )
91522 Burbank ( 818 )
91523 Burbank ( 818 )
91526 Burbank ( 818 )
91522 Burbank Studios ( 818 )
91797 Bureau of the Census ( 626 )
91499 Business Reply ( 818 )
90747 C S U Dom Hls ( 310/424 )
90840 C S U Long Beach ( 562 )
90747 Cal State University Dom Hills ( 310/424 )
91125 Cal Tech ( 626 )
91126 Cal Tech ( 626 )
91301 Calabasas ( 818 )
91302 Calabasas ( 818 )
91372 Calabasas ( 818 )
91301 Calabasas Hills ( 818 )
91301 calabasas hls ( 818 )
91330 California State University ( 818 )
90840 California State University Long Beach ( 562 )
91303 Canoga Park ( 818 )
91304 Canoga Park ( 818 )
91305 Canoga Park ( 818 )
91306 Canoga Park ( 818 )
91307 Canoga Park ( 818 )
91308 Canoga Park ( 818 )
91309 Canoga Park ( 818 )
91396 Canoga Park ( 818 )
90745 Carson ( 310/424 )
90746 Carson ( 310/424 )
90747 Carson ( 310/424 )
90749 Carson ( 310/424 )
90810 Carson ( 562 )
90895 Carson ( 562 )
90704 Catalina ( 310/424 )
90067 Century City ( 310/424 )
90701 Cerritos ( 562 )
90703 Cerritos ( 562 )
91311 Chatsworth ( 818 )
91313 Chatsworth ( 818 )
91708 Chino ( 909 )
91710 Chino ( 909 )
91709 Chino Hills ( 909 )
90018 Cimarron ( 323 )
90189 Citibank ( 213 )
91714 City Industry ( 626 )
91715 City Industry ( 626 )
91716 City Industry ( 626 )
91732 City Industry ( 626 )
91744 City Industry ( 626 )
91745 City Industry ( 626 )
91746 City Industry ( 626 )
91748 City Industry ( 626 )
91789 City Industry ( 909 )
91199 City National Bank ( 626 )
90040 City of Cmmrce ( 323 )
90091 City of Cmmrce ( 323 )
90601 City of Industry ( 562 )
91714 City of Industry ( 626 )
91715 City of Industry ( 626 )
91716 City of Industry ( 626 )
91732 City of Industry ( 626 )
91744 City of Industry ( 626 )
91745 City of Industry ( 626 )
91746 City of Industry ( 626 )
91748 City of Industry ( 626 )
91789 City of Industry ( 909 )
91899 City of Industry ( 626 )
92522 City of Riverside ( 951 )
91711 Claremont ( 909 )
90022 Commerce ( 323 )
90023 Commerce ( 323 )
90040 Commerce ( 323 )
90091 Commerce ( 323 )
95427 Comptche ( 707 )
90220 Compton ( 310/424 )
90221 Compton ( 310/424 )
90222 Compton ( 310/424 )
90223 Compton ( 310/424 )
90224 Compton ( 310/424 )
91301 Cornell ( 818 )
92877 Corona ( 951 )
92878 Corona ( 951 )
92879 Corona ( 951 )
92880 Corona ( 951 )
92881 Corona ( 951 )
92882 Corona ( 951 )
92883 Corona ( 951 )
92625 Corona del Mar ( 949 )
92625 Corona dl Mar ( 949 )
92626 Costa Mesa ( 949 )
92627 Costa Mesa ( 949 )
92628 Costa Mesa ( 949 )
92705 Cowan Heights ( 714 )
90008 Crenshaw ( 323 )
90056 Crenshaw ( 310/424 )
90220 Crystal City ( 310/424 )
90201 Cudahy ( 323 )
90066 Culver City ( 310/424 )
90230 Culver City ( 310/424 )
90231 Culver City ( 310/424 )
90232 Culver City ( 310/424 )
90233 Culver City ( 310/424 )
92624 Dana Point ( 949 )
92629 Dana Point ( 949 )
90015 Del Valle Finance ( 213 )
91482 Deluxe Check ( 818 )
90842 Department of Gas & Water ( 562 )
92704 Diamond ( 714 )
91765 Diamond Bar ( 909 )
91521 Disney Productions ( 818 )
90007 Dockweiler ( 213 )
90018 Dockweiler ( 323 )
90090 Dodgertown ( 323 )
90810 Dominguez ( 562 )
92679 Dove Canyon ( 949 )
90239 Downey ( 562 )
90240 Downey ( 562 )
90241 Downey ( 562 )
90242 Downey ( 562 )
90015 Dowtown Carrier Annex ( 213 )
91008 Duarte ( 626 )
91009 Duarte ( 626 )
91010 Duarte ( 626 )
90041 Eagle Rock ( 323 )
92650 East Irvine ( 949 )
90804 East Long Beach ( 562 )
90022 East Los Angeles ( 323 )
90221 East Rancho Dominguez ( 310/424 )
90026 Echo Park ( 213 )
90026 Edendale ( 213 )
91731 El Monte ( 626 )
91732 El Monte ( 626 )
91733 El Monte ( 626 )
91734 El Monte ( 626 )
91735 El Monte ( 626 )
90245 El Segundo ( 310/424 )
90032 El Sereno Car ( 323 )
92609 El Toro ( 949 )
92610 El Toro ( 949 )
92630 El Toro ( 949 )
91316 Encino ( 818 )
91335 Encino ( 818 )
91416 Encino ( 818 )
91426 Encino ( 818 )
91436 Encino ( 818 )
90036 Farmer Market ( 323 )
90012 Federal ( 213 )
90013 Federal ( 213 )
92805 Federal ( 714 )
91795 Federal Home Loan Bank ( 909 )
90001 Firestone Park ( 323 )
91011 Flintridge ( 818 )
92331 Fontana ( 909 )
92334 Fontana ( 909 )
92335 Fontana ( 909 )
92336 Fontana ( 909 )
92337 Fontana ( 909 )
92610 Foothill Ranch ( 949 )
92610 Foothill Rnch ( 949 )
92339 Forest Falls ( 909 )
90731 Fort Macarthur ( 310/424 )
92708 Fountain Valley ( 714 )
92728 Fountain Valley ( 714 )
90017 Foy ( 213 )
92831 Fullerton ( 714 )
92832 Fullerton ( 714 )
92833 Fullerton ( 714 )
92834 Fullerton ( 714 )
92835 Fullerton ( 714 )
92836 Fullerton ( 714 )
92837 Fullerton ( 714 )
92838 Fullerton ( 714 )
92840 Garden Grove ( 714 )
92841 Garden Grove ( 714 )
92842 Garden Grove ( 714 )
92843 Garden Grove ( 714 )
92844 Garden Grove ( 714 )
92845 Garden Grove ( 714 )
92846 Garden Grove ( 714 )
90247 Gardena ( 310/424 )
90248 Gardena ( 310/424 )
90249 Gardena ( 310/424 )
90065 Glassell ( 323 )
90065 Glassell Park ( 323 )
91201 Glendale ( 818 )
91202 Glendale ( 818 )
91203 Glendale ( 818 )
91204 Glendale ( 818 )
91205 Glendale ( 818 )
91206 Glendale ( 818 )
91207 Glendale ( 818 )
91208 Glendale ( 818 )
91209 Glendale ( 818 )
91210 Glendale ( 818 )
91214 Glendale ( 818 )
91221 Glendale ( 818 )
91222 Glendale ( 818 )
91224 Glendale ( 818 )
91225 Glendale ( 818 )
91226 Glendale ( 818 )
91210 Glendale Galleria ( 818 )
91740 Glendora ( 626 )
91741 Glendora ( 626 )
91344 Granada Hills ( 818 )
91394 Granada Hills ( 818 )
90039 Griffith ( 323 )
91745 Hacienda Heights ( 626 )
90044 Hancock ( 323 )
91331 Hansen Hills ( 818 )
90710 Harbor City ( 310/424 )
90716 Hawaiian Gardens ( 562 )
90716 Hawaiian Gdns ( 562 )
90250 Hawthorne ( 310/424 )
90251 Hawthorne ( 310/424 )
90063 Hazard ( 323 )
90254 Hermosa Beach ( 310/424 )
91302 Hidden Hills ( 818 )
90042 Highland Park ( 323 )
92802 Holiday ( 714 )
90250 Holly Park ( 310/424 )
90250 Hollyglen ( 310/424 )
90027 Hollywood ( 323 )
90028 Hollywood ( 323 )
90038 Hollywood ( 323 )
90068 Hollywood ( 323 )
90078 Hollywood ( 323 )
92850 Household Finance ( 714 )
92605 Huntingtn Bch ( 714 )
92615 Huntingtn Bch ( 714 )
92646 Huntingtn Bch ( 714 )
92647 Huntingtn Bch ( 714 )
92648 Huntingtn Bch ( 714 )
92649 Huntingtn Bch ( 714 )
92646 Huntington ( 714 )
92605 Huntington Beach ( 714 )
92615 Huntington Beach ( 714 )
92646 Huntington Beach ( 714 )
92647 Huntington Beach ( 714 )
92648 Huntington Beach ( 714 )
92649 Huntington Beach ( 714 )
90255 Huntington Park ( 323 )
90301 Inglewood ( 310/424 )
90302 Inglewood ( 310/424 )
90303 Inglewood ( 310/424 )
90304 Inglewood ( 310/424 )
90305 Inglewood ( 310/424 )
90306 Inglewood ( 310/424 )
90307 Inglewood ( 310/424 )
90308 Inglewood ( 310/424 )
90309 Inglewood ( 310/424 )
90310 Inglewood ( 310/424 )
90311 Inglewood ( 310/424 )
90312 Inglewood ( 310/424 )
92602 Irvine ( 949 )
92603 Irvine ( 949 )
92604 Irvine ( 949 )
92606 Irvine ( 949 )
92612 Irvine ( 949 )
92614 Irvine ( 949 )
92616 Irvine ( 949 )
92617 Irvine ( 949 )
92618 Irvine ( 949 )
92619 Irvine ( 949 )
92620 Irvine ( 949 )
92623 Irvine ( 949 )
92650 Irvine ( 949 )
92697 Irvine ( 949 )
91010 Irwindale ( 626 )
91702 Irwindale ( 626 )
91706 Irwindale ( 626 )
91329 J B Lansing Co ( 818 )
91189 J P Morgan ( 626 )
91342 Kagel Canyon ( 818 )
91188 Kaiser Foundation Health ( 626 )
92706 King ( 714 )
91011 La Canada ( 818 )
91012 La Canada ( 818 )
91011 La Canada Flintridge ( 818 )
91012 La Canada Flintridge ( 818 )
91011 La Canada Flt ( 818 )
91012 La Canada Flt ( 818 )
93001 La Conchita ( 805 )
91214 La Crescenta ( 818 )
91224 La Crescenta ( 818 )
90631 La Habra ( 562 )
90632 La Habra ( 562 )
90633 La Habra ( 562 )
90631 La Habra Heights ( 562 )
90631 La Habra Hgts ( 562 )
90899 La International Service Center ( 562 )
90637 La Mirada ( 714 )
90638 La Mirada ( 714 )
90639 La Mirada ( 714 )
90623 La Palma ( 714 )
91745 La Puente ( 626 )
91746 La Puente ( 626 )
91747 La Puente ( 626 )
91748 La Puente ( 626 )
91749 La Puente ( 626 )
90043 La Tijera ( 323 )
91352 La Tuna Canyon ( 818 )
91750 La Verne ( 909 )
92694 Ladera Ranch ( 949 )
92607 Laguna Beach ( 949 )
92637 Laguna Beach ( 949 )
92651 Laguna Beach ( 949 )
92652 Laguna Beach ( 949 )
92653 Laguna Beach ( 949 )
92654 Laguna Beach ( 949 )
92656 Laguna Beach ( 949 )
92677 Laguna Beach ( 949 )
92698 Laguna Beach ( 949 )
92637 Laguna Hills ( 949 )
92653 Laguna Hills ( 949 )
92654 Laguna Hills ( 949 )
92656 Laguna Hills ( 949 )
92607 Laguna Niguel ( 949 )
92677 Laguna Niguel ( 949 )
92637 Laguna Woods ( 949 )
92653 Laguna Woods ( 949 )
92654 Laguna Woods ( 949 )
91406 Lake Balboa ( 818 )
92609 Lake Forest ( 949 )
92610 Lake Forest ( 949 )
92630 Lake Forest ( 949 )
92325 Lake Gregory ( 909 )
91342 Lake View Ter ( 818 )
91342 Lake View Terrace ( 818 )
90895 Lakeshore Learning ( 562 )
91331 Lakeview Terrace ( 818 )
90711 Lakewood ( 562 )
90712 Lakewood ( 562 )
90713 Lakewood ( 562 )
90714 Lakewood ( 562 )
90715 Lakewood ( 562 )
90716 Lakewood ( 562 )
90805 Lakewood ( 562 )
90638 Lamirada ( 714 )
90260 Lawndale ( 310/424 )
90261 Lawndale ( 310/424 )
90809 LB ( 562 )
90008 Leimert Park ( 323 )
90304 Lennox ( 310/424 )
90031 Lincoln Heights ( 323 )
90717 Lomita ( 310/424 )
90745 Long Beach ( 310/424 )
90746 Long Beach ( 310/424 )
90747 Long Beach ( 310/424 )
90749 Long Beach ( 310/424 )
90755 Long Beach ( 562 )
90801 Long Beach ( 562 )
90802 Long Beach ( 562 )
90803 Long Beach ( 562 )
90804 Long Beach ( 562 )
90805 Long Beach ( 562 )
90806 Long Beach ( 562 )
90807 Long Beach ( 562 )
90808 Long Beach ( 562 )
90809 Long Beach ( 562 )
90810 Long Beach ( 562 )
90813 Long Beach ( 562 )
90814 Long Beach ( 562 )
90815 Long Beach ( 562 )
90822 Long Beach ( 562 )
90831 Long Beach ( 562 )
90832 Long Beach ( 562 )
90833 Long Beach ( 562 )
90834 Long Beach ( 562 )
90835 Long Beach ( 562 )
90840 Long Beach ( 562 )
90842 Long Beach ( 562 )
90844 Long Beach ( 562 )
90846 Long Beach ( 562 )
90847 Long Beach ( 562 )
90848 Long Beach ( 562 )
90853 Long Beach ( 562 )
90895 Long Beach ( 562 )
90899 Long Beach ( 562 )
90822 Long Beach Shared Firm ( 562 )
90720 Los Alamitos ( 562 )
90721 Los Alamitos ( 562 )
90001 Los Angeles ( 323 )
90002 Los Angeles ( 323 )
90003 Los Angeles ( 323 )
90004 Los Angeles ( 323 )
90005 Los Angeles ( 323 )
90006 Los Angeles ( 323 )
90007 Los Angeles ( 213 )
90008 Los Angeles ( 323 )
90009 Los Angeles ( 310/424 )
90010 Los Angeles ( 213 )
90011 Los Angeles ( 213 )
90012 Los Angeles ( 213 )
90013 Los Angeles ( 213 )
90014 Los Angeles ( 213 )
90015 Los Angeles ( 213 )
90016 Los Angeles ( 323 )
90017 Los Angeles ( 213 )
90018 Los Angeles ( 323 )
90019 Los Angeles ( 323 )
90020 Los Angeles ( 323 )
90021 Los Angeles ( 213 )
90022 Los Angeles ( 323 )
90023 Los Angeles ( 323 )
90024 Los Angeles ( 310/424 )
90025 Los Angeles ( 310/424 )
90026 Los Angeles ( 213 )
90027 Los Angeles ( 323 )
90028 Los Angeles ( 323 )
90029 Los Angeles ( 323 )
90030 Los Angeles ( 213 )
90031 Los Angeles ( 323 )
90032 Los Angeles ( 323 )
90033 Los Angeles ( 323 )
90034 Los Angeles ( 310/424 )
90035 Los Angeles ( 310/424 )
90036 Los Angeles ( 323 )
90037 Los Angeles ( 323 )
90038 Los Angeles ( 323 )
90039 Los Angeles ( 323 )
90040 Los Angeles ( 323 )
90041 Los Angeles ( 323 )
90042 Los Angeles ( 323 )
90043 Los Angeles ( 323 )
90044 Los Angeles ( 323 )
90045 Los Angeles ( 310/424 )
90046 Los Angeles ( 323 )
90047 Los Angeles ( 323 )
90048 Los Angeles ( 323 )
90049 Los Angeles ( 310/424 )
90050 Los Angeles ( 213 )
90051 Los Angeles ( 213 )
90052 Los Angeles ( 213 )
90053 Los Angeles ( 213 )
90054 Los Angeles ( 213 )
90055 Los Angeles ( 213 )
90056 Los Angeles ( 310/424 )
90057 Los Angeles ( 213 )
90058 Los Angeles ( 323 )
90059 Los Angeles ( 323 )
90060 Los Angeles ( 213 )
90061 Los Angeles ( 323 )
90062 Los Angeles ( 323 )
90063 Los Angeles ( 323 )
90064 Los Angeles ( 310/424 )
90065 Los Angeles ( 323 )
90066 Los Angeles ( 310/424 )
90067 Los Angeles ( 310/424 )
90068 Los Angeles ( 323 )
90069 Los Angeles ( 323 )
90070 Los Angeles ( 213 )
90071 Los Angeles ( 213 )
90072 Los Angeles ( 213 )
90073 Los Angeles ( 310/424 )
90074 Los Angeles ( 213 )
90075 Los Angeles ( 213 )
90076 Los Angeles ( 213 )
90077 Los Angeles ( 310/424 )
90078 Los Angeles ( 323 )
90079 Los Angeles ( 213 )
90080 Los Angeles ( 213 )
90081 Los Angeles ( 213 )
90082 Los Angeles ( 213 )
90083 Los Angeles ( 213 )
90084 Los Angeles ( 213 )
90086 Los Angeles ( 213 )
90087 Los Angeles ( 213 )
90088 Los Angeles ( 213 )
90089 Los Angeles ( 213 )
90090 Los Angeles ( 323 )
90091 Los Angeles ( 323 )
90093 Los Angeles ( 213 )
90094 Los Angeles ( 310/424 )
90095 Los Angeles ( 213 )
90096 Los Angeles ( 323 )
90099 Los Angeles ( 213 )
90101 Los Angeles ( 213 )
90103 Los Angeles ( 213 )
90189 Los Angeles ( 213 )
90230 Los Angeles ( 310/424 )
91331 Los Angeles ( 818 )
91335 Los Angeles ( 818 )
90009 Los Angeles AFB ( 310/424 )
90090 Los Angeles Dodgers ( 323 )
90009 Los Angeles International Airport ( 310/424 )
90009 Los Angls AFB ( 310/424 )
90027 Los Feliz ( 323 )
90606 Los Nietos ( 562 )
90610 Los Nietos ( 562 )
90262 Lynwood ( 310/424 )
90263 Malibu ( 310/424 )
90264 Malibu ( 310/424 )
90265 Malibu ( 310/424 )
90266 Manhattan Bch ( 310/424 )
90267 Manhattan Bch ( 310/424 )
90266 Manhattan Beach ( 310/424 )
90267 Manhattan Beach ( 310/424 )
90066 Mar Vista ( 310/424 )
90291 Marina del Rey ( 310/424 )
90292 Marina del Rey ( 310/424 )
90295 Marina del Rey ( 310/424 )
90292 Marina dl Rey ( 310/424 )
90295 Marina dl Rey ( 310/424 )
90021 Market ( 213 )
0270 Maywood ( 323 )
91185 Mellon Regional Lockbox Netw ( 626 )
92655 Midway City ( 714 )
90036 Miracle Mile ( 323 )
90638 Mirada ( 714 )
91345 Mission Hills ( 818 )
91346 Mission Hills ( 818 )
91395 Mission Hills ( 818 )
92675 Mission Viejo ( 949 )
92690 Mission Viejo ( 949 )
92691 Mission Viejo ( 949 )
92692 Mission Viejo ( 949 )
92694 Mission Viejo ( 949 )
92676 Modjeska ( 714 )
92676 Modjeska Canyon ( 714 )
92629 Monarch Bay ( 949 )
92629 Monarch Beach ( 949 )
91016 Monrovia ( 626 )
91017 Monrovia ( 626 )
91756 Mont Park ( 626 )
91710 Montclair ( 909 )
91762 Montclair ( 909 )
91763 Montclair ( 909 )
91302 Monte Nido ( 818 )
90640 Montebello ( 323 )
91754 Monterey Park ( 626 )
91755 Monterey Park ( 626 )
91756 Monterey Park ( 626 )
91020 Montrose ( 626 )
91021 Montrose ( 626 )
91023 Mount Wilson ( 626 )
92359 Mountain Home Village ( 909 )
92407 Muscoy ( 909 )
90803 Naples ( 562 )
92657 Newport Beach ( 949 )
92658 Newport Beach ( 949 )
92659 Newport Beach ( 949 )
92660 Newport Beach ( 949 )
92661 Newport Beach ( 949 )
92662 Newport Beach ( 949 )
92663 Newport Beach ( 949 )
92657 Newport Coast ( 949 )
91523 North B C ( 818 )
91343 North Hills ( 818 )
91393 North Hills ( 818 )
91601 North Hollywood ( 818 )
91602 North Hollywood ( 818 )
91603 North Hollywood ( 818 )
91604 North Hollywood ( 818 )
91605 North Hollywood ( 818 )
91606 North Hollywood ( 818 )
91607 North Hollywood ( 818 )
91608 North Hollywood ( 818 )
91609 North Hollywood ( 818 )
91610 North Hollywood ( 818 )
91611 North Hollywood ( 818 )
91612 North Hollywood ( 818 )
91614 North Hollywood ( 818 )
91615 North Hollywood ( 818 )
91616 North Hollywood ( 818 )
91617 North Hollywood ( 818 )
91618 North Hollywood ( 818 )
92354 North Loma Linda ( 909 )
90805 North Long Beach ( 562 )
92705 North Tustin ( 714 )
91324 Northridge ( 818 )
91325 Northridge ( 818 )
91326 Northridge ( 818 )
91327 Northridge ( 818 )
91328 Northridge ( 818 )
91329 Northridge ( 818 )
91330 Northridge ( 818 )
91343 Northridge ( 818 )
90650 Norwalk ( 562 )
90651 Norwalk ( 562 )
90652 Norwalk ( 562 )
91301 Oak Park ( 818 )
90004 Oakwood ( 323 )
91710 Ontario ( 909 )
91758 Ontario ( 909 )
91761 Ontario ( 909 )
91762 Ontario ( 909 )
91764 Ontario ( 909 )
92856 Orange ( 714 )
92857 Orange ( 714 )
92859 Orange ( 714 )
92861 Orange ( 714 )
92862 Orange ( 714 )
92863 Orange ( 714 )
92864 Orange ( 714 )
92865 Orange ( 714 )
92866 Orange ( 714 )
92867 Orange ( 714 )
92868 Orange ( 714 )
92869 Orange ( 714 )
90272 Pacific Palisades ( 310/424 )
90272 Pacific Plsds ( 310/424 )
91331 Pacoima ( 818 )
91333 Pacoima ( 818 )
91334 Pacoima ( 818 )
90034 Palms ( 310/424 )
90274 Palos Verdes Estates ( 310/424 )
90275 Palos Verdes Estates ( 310/424 )
90274 Palos Verdes Peninsula ( 310/424 )
90275 Palos Verdes Peninsula ( 310/424 )
91402 Panorama City ( 818 )
91412 Panorama City ( 818 )
91101 Pasadena ( 626 )
91102 Pasadena ( 626 )
91103 Pasadena ( 626 )
91104 Pasadena ( 626 )
91105 Pasadena ( 626 )
91106 Pasadena ( 626 )
91107 Pasadena ( 626 )
91108 Pasadena ( 626 )
91109 Pasadena ( 626 )
91110 Pasadena ( 626 )
91114 Pasadena ( 626 )
91115 Pasadena ( 626 )
91116 Pasadena ( 626 )
91117 Pasadena ( 626 )
91118 Pasadena ( 626 )
91121 Pasadena ( 626 )
91123 Pasadena ( 626 )
91124 Pasadena ( 626 )
91125 Pasadena ( 626 )
91126 Pasadena ( 626 )
91129 Pasadena ( 626 )
91182 Pasadena ( 626 )
91184 Pasadena ( 626 )
91185 Pasadena ( 626 )
91188 Pasadena ( 626 )
91189 Pasadena ( 626 )
91199 Pasadena ( 626 )
90006 Pico Heights ( 323 )
90601 Pico Rivera ( 562 )
90660 Pico Rivera ( 562 )
90661 Pico Rivera ( 562 )
90662 Pico Rivera ( 562 )
91371 Pierce College ( 818 )
92870 Placentia ( 714 )
92871 Placentia ( 714 )
90291 Playa del Rey ( 310/424 )
90293 Playa del Rey ( 310/424 )
90296 Playa del Rey ( 310/424 )
90045 Playa Vista ( 310/424 )
90094 Playa Vista ( 310/424 )
90274 Pls Vrds Est ( 310/424 )
90275 Pls Vrds Est ( 310/424 )
90274 Pls Vrds Pnsl ( 310/424 )
90275 Pls Vrds Pnsl ( 310/424 )
91765 Pomona ( 909 )
91766 Pomona ( 909 )
91767 Pomona ( 909 )
91768 Pomona ( 909 )
91769 Pomona ( 909 )
91797 Pomona ( 626 )
91326 Porter Ranch ( 818 )
91327 Porter Ranch ( 818 )
92679 Portola Hills ( 949 )
90844 Press Telegram ( 562 )
90035 Preuss ( 310/424 )
91124 Ralph M Parsons Co ( 626 )
91701 Rancho Cucamonga ( 909 )
91729 Rancho Cucamonga ( 909 )
91730 Rancho Cucamonga ( 909 )
91737 Rancho Cucamonga ( 909 )
91739 Rancho Cucamonga ( 909 )
90220 Rancho Dominguez ( 310/424 )
90224 Rancho Dominguez ( 310/424 )
91352 Rancho La Tuna Canyon ( 818 )
90275 Rancho Palos Verdes ( 310/424 )
90064 Rancho Park ( 310/424 )
92688 Rancho Santa Margarita ( 949 )
92688 Rancho Sta Marg ( 949 )
91701 Rch Cucamonga ( 909 )
91729 Rch Cucamonga ( 909 )
91730 Rch Cucamonga ( 909 )
91737 Rch Cucamonga ( 909 )
91739 Rch Cucamonga ( 909 )
90275 Rch Palos Vrd ( 310/424
92688 Rcho Sta Marg ( 949 )
90277 Redondo Beach ( 310/424 )
90278 Redondo Beach ( 310/424 )
92376 Rialto ( 909 )
92377 Rialto ( 909 )
90019 Rimpau ( 323 )
92501 Riverside ( 951 )
92502 Riverside ( 951 )
92503 Riverside ( 951 )
92504 Riverside ( 951 )
92505 Riverside ( 951 )
92506 Riverside ( 951 )
92507 Riverside ( 951 )
92508 Riverside ( 951 )
92509 Riverside ( 951 )
92513 Riverside ( 951 )
92514 Riverside ( 951 )
92515 Riverside ( 951 )
92516 Riverside ( 951 )
92517 Riverside ( 951 )
92518 Riverside ( 951 )
92519 Riverside ( 951 )
92521 Riverside ( 951 )
92522 Riverside ( 951 )
90274 Rllng Hls Est ( 310/424 )
90275 Rllng Hls Est ( 310/424 )
92679 Robinson Ranch ( 949 )
92679 Robinson Rnch ( 949 )
90103 Rodale Press ( 213 )
90274 Rolling Hills ( 310/424 )
90274 Rolling Hills Estates ( 310/424 )
90275 Rolling Hills Estates ( 310/424 )
91770 Rosemead ( 626 )
91771 Rosemead ( 626 )
91772 Rosemead ( 626 )
90222 Rosewood ( 310/424 )
90720 Rossmoor ( 562 )
91748 Rowland Heights ( 626 )
91748 Rowland Hghts ( 626 )
91748 Rowland Hgts ( 626 )
92401 San Bernardino ( 909 )
92402 San Bernardino ( 909 )
92403 San Bernardino ( 909 )
92404 San Bernardino ( 909 )
92405 San Bernardino ( 909 )
92406 San Bernardino ( 909 )
92407 San Bernardino ( 909 )
92408 San Bernardino ( 909 )
92410 San Bernardino ( 909 )
92411 San Bernardino ( 909 )
92412 San Bernardino ( 909 )
92413 San Bernardino ( 909 )
92414 San Bernardino ( 909 )
92415 San Bernardino ( 909 )
92418 San Bernardino ( 909 )
92423 San Bernardino ( 909 )
92424 San Bernardino ( 909 )
92427 San Bernardino ( 909 )
92672 San Clemente ( 949 )
92673 San Clemente ( 949 )
92674 San Clemente ( 949 )
91340 San Fernando ( 818 )
91341 San Fernando ( 818 )
91344 San Fernando ( 818 )
91345 San Fernando ( 818 )
91346 San Fernando ( 818 )
91775 San Gabriel ( 626 )
91776 San Gabriel ( 626 )
91778 San Gabriel ( 626 )
92675 San Juan Capistrano ( 949 )
92690 San Juan Capistrano ( 949 )
92691 San Juan Capistrano ( 949 )
92692 San Juan Capistrano ( 949 )
92693 San Juan Capistrano ( 949 )
92694 San Juan Capistrano ( 949 )
92675 San Juan Capo ( 949 )
92690 San Juan Capo ( 949 )
92691 San Juan Capo ( 949 )
92692 San Juan Capo ( 949 )
92693 San Juan Capo ( 949 )
90731 San Pedro ( 310/424 )
90732 San Pedro ( 310/424 )
90733 San Pedro ( 310/424 )
90734 San Pedro ( 310/424 )
90005 Sanford ( 323 )
90010 Sanford ( 213 )
90020 Sanford ( 323 )
92701 Santa Ana ( 714 )
92702 Santa Ana ( 714 )
92703 Santa Ana ( 714 )
92704 Santa Ana ( 714 )
92705 Santa Ana ( 714 )
92706 Santa Ana ( 714 )
92707 Santa Ana ( 714 )
92708 Santa Ana ( 714 )
92711 Santa Ana ( 714 )
92712 Santa Ana ( 714 )
92725 Santa Ana ( 714 )
92728 Santa Ana ( 714 )
92735 Santa Ana ( 714 )
92799 Santa Ana ( 714 )
90704 Santa Catalina ( 310/424 )
90605 Santa Fe Springs ( 562 )
90670 Santa Fe Springs ( 562 )
90671 Santa Fe Springs ( 562 )
90401 Santa Monica ( 310/424 )
90402 Santa Monica ( 310/424 )
90403 Santa Monica ( 310/424 )
90404 Santa Monica ( 310/424 )
90405 Santa Monica ( 310/424 )
90406 Santa Monica ( 310/424 )
90407 Santa Monica ( 310/424 )
90408 Santa Monica ( 310/424 )
90409 Santa Monica ( 310/424 )
90410 Santa Monica ( 310/424 )
90411 Santa Monica ( 310/424 )
90072 Santa Western ( 213 )
91301 Saratoga Hills ( 818 )
91301 Saratoga Hls ( 818 )
90740 Seal Beach ( 562 )
91343 Sepulveda ( 818 )
91393 Sepulveda ( 818 )
91040 Shadow Hills ( 818 )
91352 Shadow Hills ( 818 )
90096 Shared Firm Zip Code ( 323 )
91110 Shared Firm Zip Code ( 626 )
91401 Sherman Oaks ( 818 )
91403 Sherman Oaks ( 818 )
91411 Sherman Oaks ( 818 )
91413 Sherman Oaks ( 818 )
91423 Sherman Oaks ( 818 )
91495 Sherman Oaks ( 818 )
91607 Sherman Village ( 818 )
91024 Sierra Madre ( 626 )
91025 Sierra Madre ( 626 )
90755 Signal Hill ( 562 )
90804 Signal Hill ( 562 )
90807 Signal Hill ( 562 )
90755 Signal Hl ( 562 )
90026 Silver Lake ( 213 )
92676 Silverado ( 714 )
93062 Simi Valley ( 805 )
93063 Simi Valley ( 805 )
93064 Simi Valley ( 805 )
93065 Simi Valley ( 805 )
93094 Simi Valley ( 805 )
93099 Simi Valley ( 805 )
92415 South B County Offices ( 909 )
91733 South El Monte ( 626 )
90280 South Gate ( 323 )
92651 South Laguna ( 949 )
92707 South Main ( 714 )
91030 South Pasadena ( 626 )
91031 South Pasadena ( 626 )
91756 Southern California Gas Co ( 626 )
90680 Stanton ( 714 )
91501 Starlight Hills ( 818 )
91602 Studio City ( 818 )
91604 Studio City ( 818 )
91607 Studio City ( 818 )
91614 Studio City ( 818 )
92386 Sugarloaf ( 909 )
91352 Sun Valley ( 818 )
91353 Sun Valley ( 818 )
92806 Sunkist ( 714 )
91040 Sunland ( 818 )
91041 Sunland ( 818 )
90742 Sunset Beach ( 562 )
90743 Surfside ( 562 )
91342 Sylmar ( 818 )
91392 Sylmar ( 818 )
91335 Tarzana ( 818 )
91356 Tarzana ( 818 )
91357 Tarzana ( 818 )
90731 Terminal Island ( 310/424 )
90079 Textile Boxes ( 213 )
90015 Textile Finance ( 213 )
91319 Thousand Oaks ( 805 )
91320 Thousand Oaks ( 805 )
91358 Thousand Oaks ( 805 )
91359 Thousand Oaks ( 805 )
91360 Thousand Oaks ( 805 )
91361 Thousand Oaks ( 805 )
91362 Thousand Oaks ( 805 )
91602 Toluca Lake ( 818 )
91610 Toluca Lake ( 818 )
91601 Toluca Ter ( 818 )
91601 Toluca Terrace ( 818 )
90290 Topanga ( 310/424 )
90501 Torrance ( 310/424 )
90502 Torrance ( 310/424 )
90503 Torrance ( 310/424 )
90504 Torrance ( 310/424 )
90505 Torrance ( 310/424 )
90506 Torrance ( 310/424 )
90507 Torrance ( 310/424 )
90508 Torrance ( 310/424 )
90509 Torrance ( 310/424 )
90510 Torrance ( 310/424 )
91184 Tournament of Roses Assoc ( 626 )
92679 Trabuco ( 949 )
92678 Trabuco Canyon ( 949 )
92679 Trabuco Canyon ( 949 )
92688 Trabuco Canyon ( 949 )
92678 Trabuco Cyn ( 949 )
92679 Trabuco Cyn ( 949 )
91042 Tujunga ( 818 )
91043 Tujunga ( 818 )
92780 Tustin ( 714 )
92781 Tustin ( 714 )
92782 Tustin ( 714 )
91496 U S Purchasing Corp ( 818 )
91495 U S Purchasing Exchange ( 818 )
92697 UCI ( 949 )
90095 UCLA ( 213 )
91608 Universal City ( 818 )
91618 Universal City ( 818 )
92697 University of California Irvine ( 949 )
90089 University of Southern Ca ( 213 )
91784 Upland ( 909 )
91785 Upland ( 909 )
91786 Upland ( 909 )
91611 Us Purchasing Exchange ( 818 )
91612 Us Purchasing Exchange ( 818 )
91401 Valley Glen ( 818 )
91405 Valley Glen ( 818 )
91606 Valley Glen ( 818 )
91601 Valley Village ( 818 )
91607 Valley Village ( 818 )
91617 Valley Village ( 818 )
91316 Van Nuys ( 818 )
91401 Van Nuys ( 818 )
91402 Van Nuys ( 818 )
91403 Van Nuys ( 818 )
91404 Van Nuys ( 818 )
91405 Van Nuys ( 818 )
91406 Van Nuys ( 818 )
91407 Van Nuys ( 818 )
91408 Van Nuys ( 818 )
91409 Van Nuys ( 818 )
91410 Van Nuys ( 818 )
91411 Van Nuys ( 818 )
91412 Van Nuys ( 818 )
91413 Van Nuys ( 818 )
91416 Van Nuys ( 818 )
91423 Van Nuys ( 818 )
91426 Van Nuys ( 818 )
91436 Van Nuys ( 818 )
91470 Van Nuys ( 818 )
91482 Van Nuys ( 818 )
91495 Van Nuys ( 818 )
91496 Van Nuys ( 818 )
91499 Van Nuys ( 818 )
91606 Van Nuys ( 818 )
90291 Venice ( 310/424 )
90292 Venice ( 310/424 )
90293 Venice ( 310/424 )
90294 Venice ( 310/424 )
90295 Venice ( 310/424 )
90296 Venice ( 310/424 )
90029 Vermont ( 323 )
90058 Vernon ( 323 )
90073 Veterans Adm ( 310/424 )
90073 Veterans Admin ( 310/424 )
90073 Veterans Administration ( 310/424 )
90073 Veterans Admn ( 310/424 )
92357 Veterans' Hospital ( 909 )
90043 View Park ( 323 )
92861 Villa Park ( 714 )
92867 Villa Park ( 714 )
90024 Village ( 310/424 )
90047 Wagner ( 323 )
91788 Walnut ( 909 )
91789 Walnut ( 909 )
91795 Walnut ( 909 )
90255 Walnut Park ( 323 )
91526 Walt Disney Co ( 818 )
90002 Watts ( 323 )
91735 Wells Fargo Bank ( 626 )
90016 West Adams ( 323 )
91790 West Covina ( 626 )
91791 West Covina ( 626 )
91792 West Covina ( 626 )
91793 West Covina ( 626 )
91304 West Hills ( 818 )
91307 West Hills ( 818 )
91308 West Hills ( 818 )
90038 West Hollywood ( 323 )
90046 West Hollywood ( 323 )
90048 West Hollywood ( 323 )
90069 West Hollywood ( 323 )
90025 West Los Angeles ( 310/424 )
91602 West Toluca Lake ( 818 )
90045 Westchester ( 310/424 )
92683 Westminster ( 714 )
92684 Westminster ( 714 )
92685 Westminster ( 714 )
90062 Westvern ( 323 )
90601 Whittier ( 562 )
90602 Whittier ( 562 )
90603 Whittier ( 562 )
90604 Whittier ( 562 )
90605 Whittier ( 562 )
90606 Whittier ( 562 )
90607 Whittier ( 562 )
90608 Whittier ( 562 )
90609 Whittier ( 562 )
90610 Whittier ( 562 )
90038 Wilcox ( 323 )
90744 Wilmington ( 310/424 )
90748 Wilmington ( 310/424 )
90036 Wilshire-La Brea ( 323 )
90043 Windsor Hills ( 323 )
90056 Windsor Hills ( 310/424 )
91306 Winnetka ( 818 )
91396 Winnetka ( 818 )
90025 WLA ( 310/424 )
91302 Woodland Hills ( 818 )
91303 Woodland Hills ( 818 )
91364 Woodland Hills ( 818 )
91365 Woodland Hills ( 818 )
91367 Woodland Hills ( 818 )
91371 Woodland Hills ( 818 )
91372 Woodland Hills ( 818 )
91302 Woodland Hls ( 818 )
91303 Woodland Hls ( 818 )
91364 Woodland Hls ( 818 )
91365 Woodland Hls ( 818 )
91367 Woodland Hls ( 818 )
91371 Woodland Hls ( 818 )
91372 Woodland Hls ( 818 )
92885 Yorba Linda ( 714 )
92886 Yorba Linda ( 714 )
92887 Yorba Linda ( 714 )